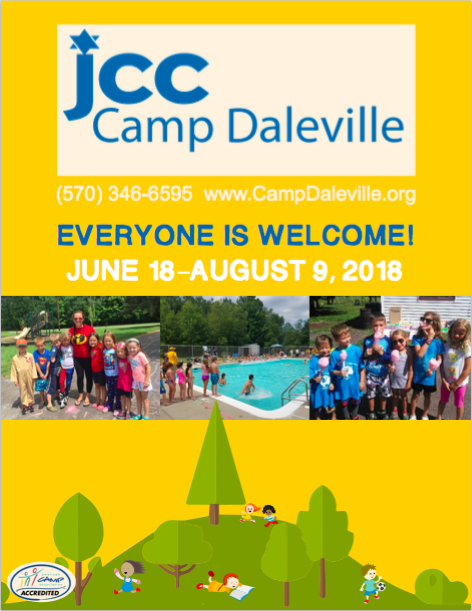 FEES:
Camp tuition payment must be made in full prior to June 1, 2018. No refunds will be issued after June 1, 2018. Camp tuition includes a free, one-year Youth membership to the Scranton JCC. Families that enroll at least two children will receive a sibling discount. The 2nd child receives a $20 sibling discount. The third and each successive camper receives a $30 sibling discount.
EARLY BIRD DISCOUNT:
For full-season campers only. If you issue a $100 nonrefundable deposit, per child, on or prior to February 1st, you will automatically receive $100 off the camp fee for each child.
SCHOLARSHIP:
We want every child to have the opportunity to experience a fantastic summer at JCC Camp Daleville. The JCC is prepared to help families in financial need. The deadline to apply for scholarship or payment plans is April 16, 2018. Scholarship forms are available at the Scranton JCC front office or you may download our scholarship procedures and application here.. Scholarship decisions are determined by our Camp Scholarship Committee.
T-SHIRTS:
All campers will be given a free camp t-shirt to be worn on special event days and all field trips. This helps to more fully assure safety on the trips. Make sure you circle the proper size of your child's T-shirt on the registration form.
MEDICAL FORM:
A medical form MUST be completed and signed by a doctor for each camper prior to the start of camp. A medical form is located on the registration form.
Each registered camper must have his/her own health insurance coverage. No child will be allowed to attend camp without a completed and signed medical form.
TRANSPORTATION:
Camp Daleville provides transportation to and from camp from several convenient locations, including the Scranton JCC, St. Gregory's Church in Clarks Summit, Pen-Y-Bryn Drive, and Roaring Brook Estates. We will also pick up at selected points in the Pocono area based on a minimum registration.  Campers should plan to be at their morning bus stop by 8:50 am.  Buses depart Camp Daleville at 4:30 pm.
LUNCH & SNACKS:
Campers may bring their own lunch, which will be refrigerated upon arrival at camp. We also offer a kosher lunch served with chips, salad, cookies & a drink five days per week ($3/day). Camp Daleville provides all daily beverages and snacks as well as food and drinks for cookouts and overnight meals.  Download a weekly order form here
MONDAY – Spaghetti
TUESDAY – Mac & Cheese
WEDNESDAY – Hot Dog
THURSDAY – Grilled Cheese
FRIDAY – Pizza
CAMP COMMITTEE:
Our Camp Committee is comprised of a group of dedicated, active, volunteers who work hand in hand with the professional leadership of the camp to ensure the best possible camp experience for our campers. Committee members bring a range of expertise and tremendous enthusiasm to the camp. If you are interested in joining our Camp Committee, please contact Camp Director Vince Kalinoski at 346-6595 extension 115.